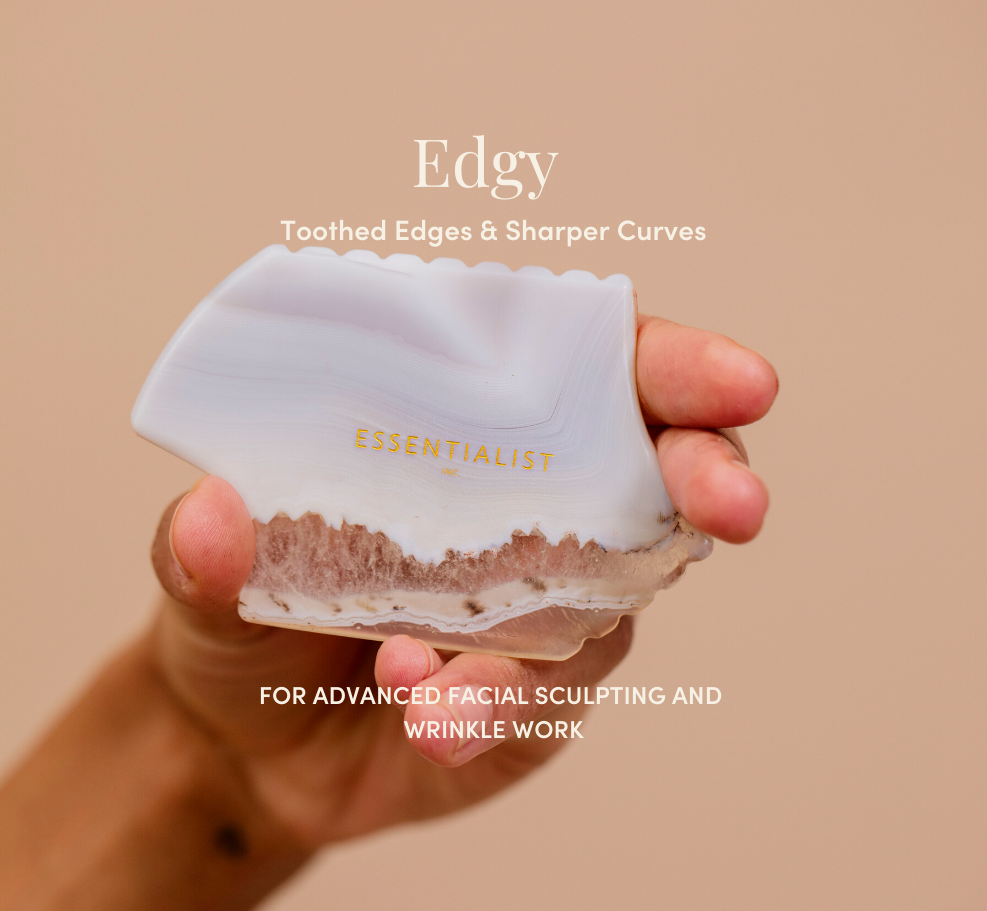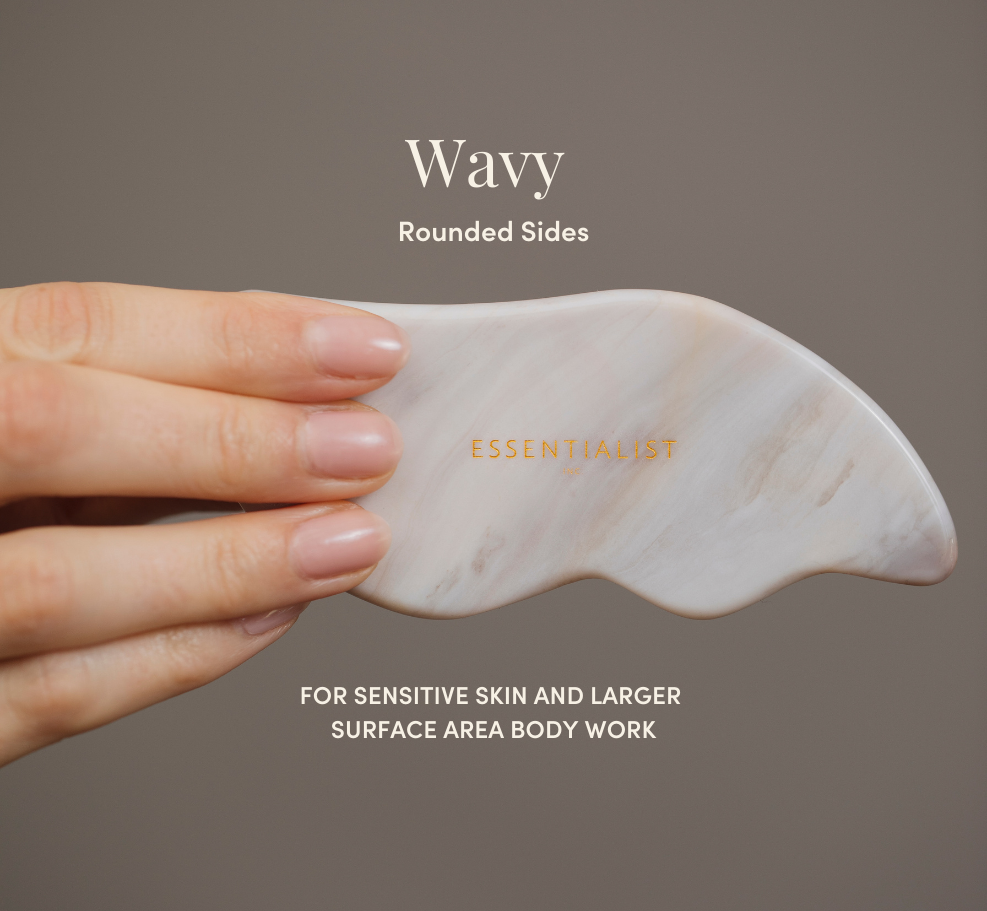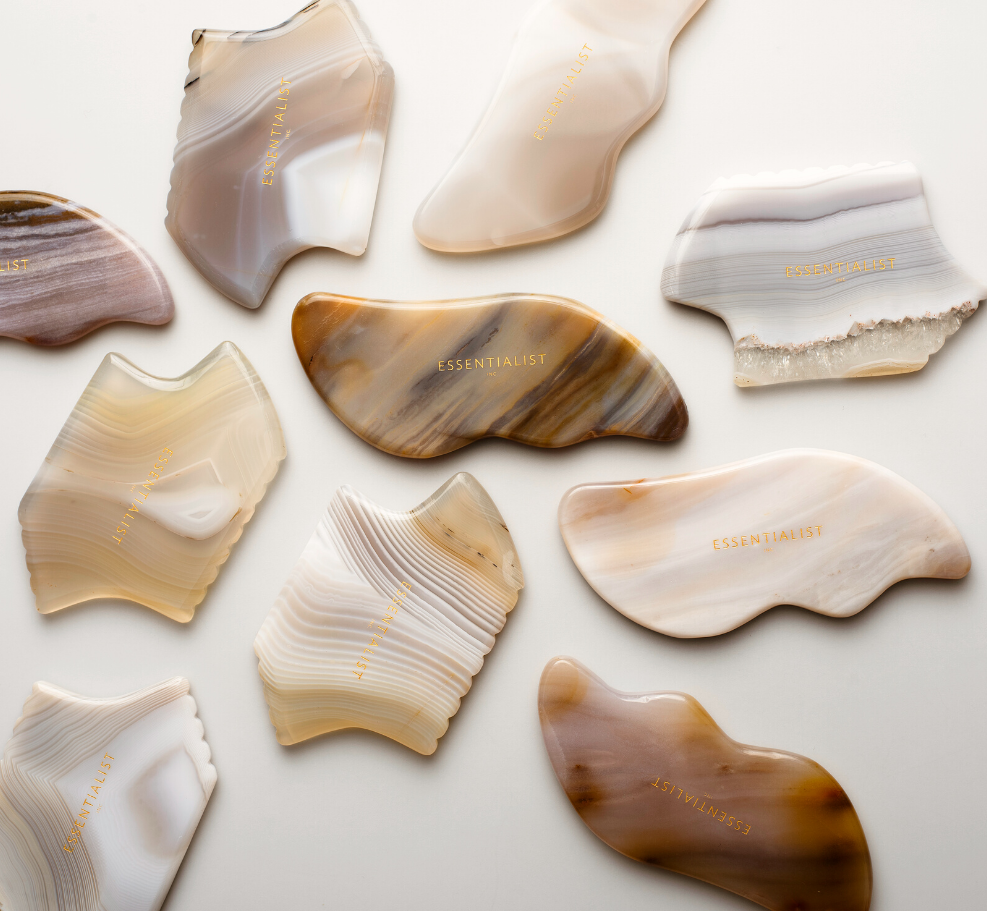 Guasha Tools
Sculpt + Tone
Each stone is uniquely beautiful, just like you.
$56 USD
Our custom shaped guasha tools cut from natural genuine agate are as stunning as they are functional.
Guasha is an ancient Traditional Chinese Medicine technique and is one of the most effective self-care practices you can learn.
Though historically a modality for various illnesses and bodily ailments, modern adaptations have evolved specifically for the face. 
Benefits of regular use include: improved circulation, lymphatic drainage, enhanced skin tone and elasticity, reduced appearance of expression lines and wrinkles, easing tension and stress, as well as preventing or clearing breakouts.
Our guasha tools pair perfectly with our Daily Renewal Facial Oil.
What
Which tool is right for you?
Both styles have been designed to be used interchangeably on the face or body and are appropriate for beginner or advanced users alike.
Wavy - The waved edged tool has been designed to caress the face and neck and is ideal for gentle lymphatic drainage work. The shape makes it easy to hold and a larger surface area makes it perfect for body work on the shoulders, arms, legs, and back. This tool is great for those who are discovering guasha as there are no complicated maneuvers necessary for optimal utilization.
Edgy - The sharp curves are designed to hug your jaw line, cheek and brow bones, while the jagged edges are made for targeting deeper lines and wrinkles. This tool is excellent for users who are very comfortable with basic guasha techniques and want to use the tool to explore more advanced target work.
Wavy - Rounded Sides
FOR SENSITIVE SKIN AND LARGER SURFACE AREA BODY WORK
Edgy - Toothed Edges and Sharper Curves
FOR ADVANCED FACIAL SCULPTING AND WRINKLE WORK
Why
Benefits of Practice
This ancient Chinese technique is one of the most simple and rewarding self-care practices that you can do literally anywhere.
Just like our bodies, the face is made of muscles that can benefit tremendously from guasha by addressing stagnant energy, increasing blood circulation, promoting lymphatic drainage, breaking down fascia, and reducing facial bloating.
With regular use you will not only ease tension, stress, and minimize lines that naturally form from expression. but you will actively tone and enhance skin elasticity too.
Working with the epidermis and dermal layers beneath guasha also helps to prevent and clear breakouts.
There's a reason guasha users report having smoother, plumper, and more lifted looking skin, it works!
How
Using Your Stone
Pair with our antioxidant rich Daily Renewal Facial Oil for the treat your skin is begging for.
Start by generously misting toner or essence onto a freshly washed face.
Follow with 3-5 drops of our Daily Renewal Facial Oil and apply all over your face and neck.
The key is to create a surface that your tool will glide across- never practice on dry skin.
Take this time to set the tone for your ritual with some deep cleansing breaths.
If you're familiar with guasha continue your practice as you normally would. If you're new to the method or need a refresh, we partnered with expert Dr. Debbie Kung, DAOM, Licensed Acupuncturist (LAc), to create an Introduction to Guasha video, please see here.
Warning: Be very careful when the stone is oily or wet, it will be slippery and can break if dropped.
Love the Wavy Gua Sha!
The wavy gua Sha is perfect for a beginner. The curves are perfect for around and u Derm the eyes, cheeks, chin and neck. I'm definitely happy I went with this stone. I love how my skin feels after massaging with the Wavy!!!
Helpful
Such a nice Gua sha stone for massage easy to use and perfect size I really recommend!
Best Quality and Multi faceted!!
IMO this is the best Gua sha stone I've come across. I love the jagged teeth of this stone best and how it's not just on one part of the stone. Feels sturdy and high quality and ergonomic in my hand. I love my new stone!!! I'm so happy and grateful for your company to make these :))
Great guasha
Super easy to use and perfect size! Also they pair amazingly with the Essentialist oil!